New Generation of Highly Efficient ModulA Pumps from Biral
According to eco-design guidelines, only highly efficient circulation pumps have been permitted for sale in Europe since 1January 2013. The latest generation of pumps from Biral are among the "best in class" on the market with an energy efficiency index (EEI) of ≤ 0.17.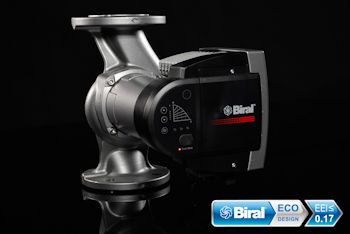 The latest generation of pumps from Biral have an EEI value of ≤ 0.17 (Image: Biral)
Energy and cost savings of 80% or more can be made in comparison with traditional unregulated pumps from efficiency class D.
The new Biral ECO design label
The new ECO design label from Biral shows at a glance that a pump is in the top class in matters of energy efficiency. Replacing older pumps with a new ModulA from Biral pays for itself in a short period due to considerably lower energy costs.
Simple to use
ModulA pumps are easy to use with just a few presses on the clear, self-explanatory membrane keyboard. Simple operation is designed as standard across the entire product range. The delivery head can be set in 10 stages. The pump thus adapts and optimises intuitively and precisely to the individual system conditions in just a few seconds. A power limit function (volume flow limit) can also be activated directly on the pump.
The most important information at a glance:
The light display
This gives an overview of the most important information for pump settings at any time. LEDs show the operating status at a glance and give information on the current delivery head as well as the type of control set and its control stage.
The Biral impeller
This signals whether the pump is in operation via a rotating light display.
Biral Remote adapter and Biral Remote app
Full control with the Biral Remote adapter and the Biral Remote app. Biral Remote enables configuration and analysis of the ModulA via a smartphone. Wireless communication occurs via a Wi-Fi connection with the ModulA, which is equipped with an interface for the Biral Remote adapter. This enables access to all information and aids required.
Robust, durable and reliable
The ModulA has been conceived with value retention in mind in the design and processing as well as with regard to the choice of material. The user interface and LED display, which have proven to be resilient and intuitive for many years, remain the same. The thermal insulation shells offer effective protection against energy losses. Accessories that usually cost extra are included in the ModulA.
Customised solution (ModulAr)
The new generation of pumps in its basic configuration offers innovative, highly efficient and reliable pump technology with excellent value for money.
Based purely on item-specific requirements and customer wishes, the "basic package" can be extended or converted via modules. Every pump can therefore be adapted to the requirements in a customised way, which saves on investment costs. In other words: installers are not fitting pumps with a big discount but pumps with high efficiency. Customers do not just look at investment costs in isolation but at operating costs too. Anyone doing this is being energy efficient and is therefore not harming the environment.