New Generation of Drives from Siemens A&D
Under the name Sinamics, Siemens Automation and Drives (A&D) has launched a new generation of drives at the Hanover Fair Industry 2003. The new drives are suitable for any kind of machine and are designed to match the Simatic and Simotion automation systems from Siemens.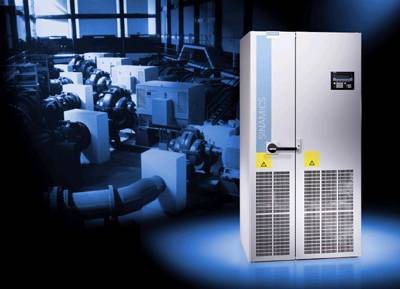 Sinamics G150 (photo Siemens)
The new Sinamics G150 converter was been developed for high-performance pumps, fans and turbocompressors. Sinamics G150 is currently the quietest and most compact converter worldwide in a standard control cabinet, and supplements the Siemens Simovert Masterdrives control cabinet units. Compared to a fixed-speed drive, the converter saves up to 50 percent energy and requires up to 70 percent less space than conventional devices. At full power, the Sinamics G150 causes a noise level of typically 72 decibels, making soundproofing measures unnecessary when planning. The device additionally features extremely simple handling, particularly during system planning, product procurement, installation and commissioning, as well as for the HMI and servicing concept.
Sinamics G150 controls the speed of low-voltage asynchronous motors with powers between 75 and 560 kilowatt; expansion of this range is planned. The converter's design makes it particularly suitable for use in pumps, fans and turbo compressors. These applications are standard drive tasks for quadratic load torques which can be handled by vector control without speed feedback.
Sinamics assures exact processes for pumps, fans and turbo compressors, for example for the transport and dosing of solid, liquid and gaseous process materials. Furthermore, the G150 reduces the energy requirements by approximately 30 to 50 percent compared to fixed-speed drives. The space required by Sinamics G150 is up to 50 percent less than with conventional devices. If the power connection components are fitted in a central low-voltage system, space savings of up to 70 percent are even possible. Despite its compact design, the internal cable connection area is generously dimensioned, permitting problem-free connection even with large cable cross-sections. If required, the degree of protection can be upgraded on site, for example from IP20 to IP54, without changing the required space.
The converter can be integrated into any Siemens automation landscape using the Totally Integrated Automation (TIA) concept. Only a few parameters need to be set when commissioning, and high operating convenience is provided by a menu-prompted, graphics-based alphanumeric text display.
The newly developed modular power blocks are particularly easy to service, and can be replaced as a complete unit if necessary.