New Functions for Sinamics G Series and Sinamics G120X
Siemens is extending the functionality of the proven Sinamics IOP-2 for Sinamics G series converters to include the FW V2.3 SP1 firmware update.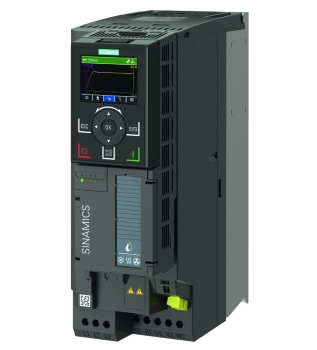 Sinamics G120X, frame size FSB, IP 20 with Sinamics Intelligent Operator Panel IOP-2 (Image source: Siemens Aktiengesellschaft)
This improves local setup, operation, monitoring, diagnostics and service of all Sinamics G series converters. The FW V2.3 SP1 update also provides users with the additional benefit of transferring special application functions into the project menu.
These application functions are then easily accessible from a list which simplifies the setup of the selected functions using the Quick Start or Advanced Startup options. As a result, users can run their applications without requiring any specialist knowledge of the operating parameters.
The FW V2.3 SP1 upgrade offers special applications and functions for extended operation of the Sinamics G120X. For pumps, this includes deragging, pipe filling mode, cavitation protection, condensation protection and hibernation mode. For fans, the update includes flying restart, skip frequencies, and automatic restart functions. The panel includes new functions and is available as option for the G120, G120X, G120XA, G120P, G120C, G120D, G110M Sinamics converters as well as distributed I/O Simatic ET 200pro FC-2. The basic requirement for use of the new functions is Firmware Pool Version V4.7 SP3.