New Flygt Jet Mixers with Dry-Installed N-Technology
ITT Water & Wastewater announces the launch of advanced Flygt jet mixers. Specially designed for demanding wastewater and sludge applications, these powerful new Flygt jet mixers combine the patented Flygt N-technology with an innovative ejector assembly.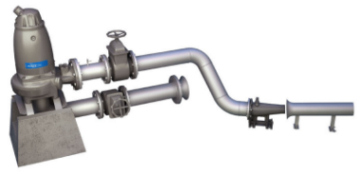 ITT Water & Wasterwater
Preventing solids deposition is of paramount importance for effective mixing. Minimizing particle settlement and subsequent sediment build-up requires strong bulk flow. Flygt jet mixers deliver just that. Ideal for demanding wastewater and sludge applications where dry installation is preferred, Flygt jet mixers deliver highly homogeneous sludge mixtures with superior energy efficiency, minimal installation costs and low maintenance requirements.
"We are excited to be able to offer our customers a dry-installed mixing solution as a complement to our Flygt submersible mixers," says Matthew Szurgot, product manager at ITT Water & Wastewater. "Using proven Flygt N-technology with its clog-free design, the Flygt jet mixer makes it possible for customers to achieve maximum uptime and sustained efficiency of their mixing processes. Unlike conventional pumps that experience efficiency loss due to clogging, Flygt N-pumps maintain optimal performance."
Efficiency is also the motivating force behind the Flygt jet mixer's unique ejector assembly. The ejector assembly consists of a carefully engineered nozzle and ejector pipe configuration, which augments the cross-sectional area of the jet and increases the efficiency of the jet's entry into the tank.
Flygt jet mixers are available in five different models with thrusts ranging between 320 and 5250 Newton. The corresponding Flygt N-pumps range from 2.4 to 63 kW.
To optimize mixer performance, ITT Water & Wastewater engineers evaluate tank design, type of media, solids concentration and other process demands. They then recommend the optimal solution using their application knowledge as well as the company's mixer selection software and Computational Fluid Dynamics (CFD).