New FDA-Conforming Air-Operated Diaphragm Pumps
With its new FDA-conforming air-operated diaphragm pumps of type RFM/RFML, the German-based pump manufacturer Flux presents pumps that are tailored to the needs of the pharmaceutical and cosmetics industry.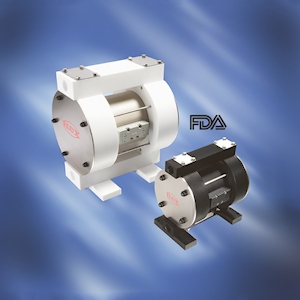 Air-operated diaphragm pumps RFM/RFML conforming to FDA CFR 21 (Image: Flux)
In the pharmaceutical and cosmetics industry, the focus is on gentle and safe processes worldwide. Accordingly, the pumps used in the field must meet very high safety standards and strict requirements. Strict regulations apply in these areas, so that FDA-based approval is required ever more often.
The FLUX air-operated diaphragm pumps type RFM with the design sizes 10, 15, 25 and 40 made of polytetrafluoroethylene (PTFE) and the variants RFML 25 and 40 made of conductive PTFE are available exclusively conforming to FDA CFR 21. That is, they meet the strict requirements of the FDA, as all components in contact with the product are made of FDA-conforming plastics (PTFE) and elastomers (EPDM). Moreover, these materials are very well resistant to chemicals and heat. Ignition hazards due to static electricity are ruled out by the use of variants made of conductive PTFE, which are certified to the ATEX Directive 94/9 EC. The new RFM pump variants are therefore suitable for reliably pumping of a large number of fluids. Flux air-operated diaphragm pumps are already used by wellknown pharmaceutical and cosmetics companies all over the world. They guarantee high availability and require little maintenance and, moreover, they are very versatile and carry out their tasks quickly, safely, gently and reliably.
FDA approval is becoming more & more important in the pharmaceutical and cosmetics industry. The Food and Drug Administration (FDA) is the United States' authority for food control and drug approval. The FDA makes especially high requirements on materials for the pharmaceutical and cosmetics industry: Only those materials are permitted which are on the FDA s whitelist. Plastics (polymers) fall within the scope of Title 21 of the FDA s Code of Federal Regulations (CFR). The production of pharmaceutical and cosmetic products in compliance with the FDA guidelines guarantees manufacturers that they can sell their products in the U.S. Therefore, ever more pharmaceuticals and cosmetics producers adjust their production to these guidelines and ever more often use pumps in their production processes that comply with these FDA CFR 21 guidelines.