New FDA Compliant Air Operated Double Diaphragm Pumps by Michael Smith Engineers
The Finish Thompson FTI AIR range of Air-Operated Double Diaphragm pumps (AODD) has been expanded following the introduction of new models in materials which are FDA compliant. Available from Michael Smith Engineers these new pump options are made from Polypropylene and 316 Stainless Steel so they are ideal for food, beverage, pharmaceutical and cosmetic fluids handling applications.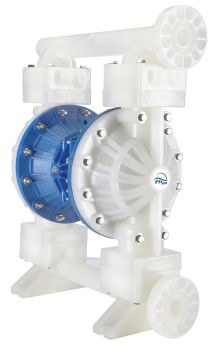 Michael Smith Engineers
The Polypropylene option has a simple, durable design with a smooth, easy clean finish with FDA compliant unfilled polypropylene wetted components and a choice of polypropylene or powder coated aluminium for the non-wetted parts. It has stainless steel fasteners and is available with threaded or ANSl/DIN/ISO flanged connections which vary depending on pump size.
The FDA compliant metallic option features 316L stainless steel wetted components and a smooth satin finish to RA 200µ-in/5.1µm with tri-clamp connections and stainless steel hardware. The non-wetted parts are available in either powder coated aluminium or polypropylene. An ATEX certified option is also available on request.
Both models benefit from an integral, stall-free air valve that is simple, rugged and reliable and eliminates the need for a separate pilot valve, or mechanically operated pilot valve. The components for this include; a low friction slide valve on a ceramic plate to allow for long-life and superior sealing, a moulded Buna gasket which ensures total sealing and eliminates flat gasket tearing.
The simple and proven design places the emphasis on fewer moving parts, resulting in the all-important benefits of improved reliability, reduced downtime and lower running costs.
The FTI AIR range offers the important benefits of using AODD pumps. These include, simple installation, easy to operate and run, low maintenance and running costs, self-priming, portable, dry-running and the ability to handle abrasive, viscous and shear-sensitive liquids and even 'dirty' liquids with particles.
The pumps modular construction contributes toward simplified maintenance with individually replaceable, lower cost wearing parts which do not require special tools for fitting. Single piece flow assembly procedures means that every pump is built to the highest quality of specifications and every pump is tested with a three point test for vacuum, leakage and run ability.