New Factory for Submersible Motors
SAER announces the launch of a new factory for submersible motors. With this investment SAER will expand its facilities to produce high quality submersible motors.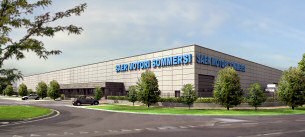 New SAER factory for submersible motors
The production includes submersible motors from 4" to 12" and is planned to be extended to 14" and 16" in the near future.
With two factories, the submersible motor division is now ready to satisfy all requirements of the market. SAER manufactures motors from 0,37 kW up to 300 kW with different materials such as cast iron, bronze for sea water applications as well as stainless steel AISI 316.
The range of voltages reaches up to 1000V. The motors have obtained different certifications under several tests. For OEM companies samples are available.
Inquiries are appreciated to SAER Submotor Division to: info@saersubmotors.com