New Explosion-Proof Electric Actuators for Continuous Underwater Use by Auma
Electric actuator manufacturer Auma has enhanced its underwater actuators with explosion-proof versions. These actuators are suitable for continuous immersion, thus considerably extending the scope of application of electric actuators in water supply systems, hydropower plants, civil engineering constructions for water applications, and specific underwater applications.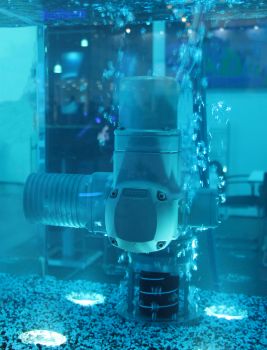 A new version of the Auma SA and SAEx multi-turn actuators is suitable for continuous underwater use (Image: Auma)
Where water supply or sewer pipes run underground, actuators and valves are often installed in pits below ground level. Actuators designed for underwater use are ideal for installation in monsoon regions or in areas with a high risk of flooding as they will operate reliably even if flooding persists. The new explosion-proof version is available for sewers and sewage pits, where fermentation gases generate a risk of potentially explosive atmospheres during dry periods.
Thanks to a universal sealing system combined with comprehensive corrosion protection these actuators can reliably operate under water for many years. Double-sealed cable glands at the electrical connection, inner seals – some in pairs – on all housing covers, and a one-piece solid shaft effectively prevent the ingress of water.
SA and SAEx actuators in sizes 07.2 to 16.2 for continuous underwater use are qualified for up to 15 m head of water, with higher heads of water available on request. Explosion-proof versions meet ATEX requirements.
All actuator settings, including end position settings for travel and torque, are made non-intrusively via the AC actuator controls, without opening the actuator housing. The actuator controls are installed outside the flooded area, separate from the valve and actuator, and connected via cables. Cable lengths up to 100 m can be achieved.