New EV Range of Single-Stage Rotary Vane Pumps
BOC Edwards, has launched a new range of single-stage rotary vane pumps. The EV range offers reliable, high-speed low-pressure performance suitable for a wide range of applications including furnaces, vacuum drying, thermoforming, food processing and packaging.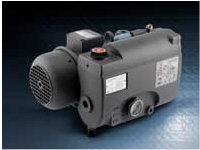 The smaller pumps, such as the EV20 and EV40, are also suitable for use in scientific applications. A combination of proven, low-maintenance rotary vane technology and environmentally-aware design, BOC Edwards brings to market an economical single-stage vacuum solution for industry.
Unlike some competitive products the EV range provides continuous operation from atmosphere to ultimate vacuum. This, coupled with good water vapour tolerance of up to 6 kg/h at 10 mbar, ensures a consistent, un-interrupted process. Other key benefits include low vibration and noise even on the largest EV630 pump (less than 83 dB(A)) and highly efficient mist filters that ensure minimal oil discharge from the exhaust - pro-viding economical operation and environmental protection. All pumps are air cooled, saving the capital and operating costs associated with providing cooling water.
Pumps can be supplied individually (there are nine variants offering a range of speeds from 20 to 750m3/h) or as part of a pre-engineered combination with BOC Edwards proven mechanical booster pumps to increase pumping speed and ultimate vacuum. Dual frequency, wide band motor options ensure compatibility with power sources worldwide.