New Emperor HT Pump
General Pump is pleased to introduce an addition to their innovative Emperor line of HT pumps, the HTCK4050S. The HTCK4050S is a direct replacement for the Cat 3535 with the distinct advantage of featuring General Pump's HT technology.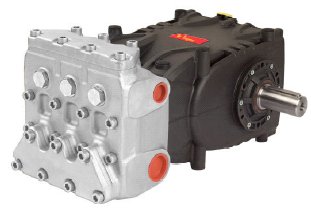 The Emperor HTCK4050S by General Pump (photo: General Pump).
This patent-pending technology, called HT for both "high temperature" and "high tech", is exclusive to General Pump.
The Emperor line features high tech packings and high temp valve design. These premium pumps can withstand very highg temperatures and can even run dry for several hours. The nickel plated manifold and valve covers provide corrosion-resistant operation and help prevent damage due to cavitation.
The Emperor HTCK4050S is now available. Please contact General Pump for further details on the Emperor line of pumps or visit the company's website.
Contact: Troy Benike
1174 Northland Drive
Mendota Heights, MN 55120
USA
Phone: ++1 651-454-6500
FAX: ++1 651-454-8015
Since 1986, General Pump has worked closely with its customers to develop dependable, high performance pumps and pump accessories to fit the most demanding applications. General Pumps serves various markets including high pressure pumps, industrial pumps and desalination pumps.