New Double Seal Valve for CIP-Applications
The APV DELTA SWcip4 valve is a new cost-effective double seal valve that is just right for CIP applications requiring safe liquid separation.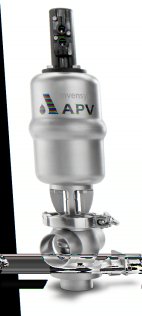 The new DELTA SWcip4 valve is a double-seal valve built upon the principles of the well-known DELTA SW4 single-seat valve and DELTA SD4 safe flow valve.
A new trend
Traditionally, many types of valves have been used in CIP-applications. Safety standards are ever-increasing and food companies around the world require a high degree of safety within CIP systems.
In recent years, standard mixproof valves have been used for these applications albeit with the disadvantage of a high cost to the customer.
A new product
By introducing the DELTA SWcip4 valve, APV now has a mixproof valve, which is positioned just right for the application. The simpler design means that the DELTA SWcip4 is available at a very competitive price.
Features
No compromise has been made to design the valve. The DELTA SWcip4 comprises the safe shut-off of two pipelines, which are separated from one another by two seat seals. A leakage chamber is arranged between the seat seals, the leakage chamber being forcibly closed by one leakage valve or opened to the atmosphere.
The DELTA SWcip4 valve has excellent hygienic characteristics primarily due to the ball-shaped housing without sump and dome.
The profile seat seals provide a crevice-free sealing and the compression of the seat seals is controlled by a metallic stop. This prevents excessive seal wear.
The DELTA SWcip4 valves can be delivered with the complete range of DELTA CU control units.
APV is a world leader of high quality process technologies and engineering solutions for the dairy, food, beverage, brewing, pharmaceutical and healthcare industries. As a subsidiary of Invensys plc, APV has access through its sister companies to some of the latest and most innovative automation systems. From engineered components through to complete, fully automated process plants, the company focuses on adding value to its customers' business performance and profitability.APV's range of manufactured products includes heat exchangers, homogenisers, pumps and valves for hygienic applications.