New Diesel Waterjet Pump
Jet Edge, Inc., is pleased to introduce the iP36-280DS diesel-powered waterjet intensifier pump. Ideal for use in remote and/or mobile locations where electricity is scarce, the iP36-280DS is powered by a reliable 280hp Cummins turbo diesel engine that meets domestic and international Tier 3 emissions standards.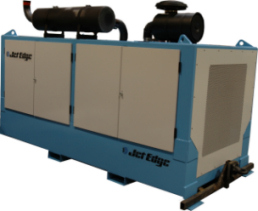 Jet Edge
It is capable of producing a flow rate of up to 7.2 gallons (27 liters) per minute of 36,000 psi (2,500 bar) ultra-high pressure water for waterjet cutting, surface preparation and cleaning applications.
The iP36-280DS waterjet intensifier pump utilizes a pressure-compensated hydraulic system to drive dual plunger-style intensifiers. The use of hydraulic fluid power provides smooth flowing UHP water resulting in long system life. Reliable and precise control of the electronically shifted intensifiers ensures superior performance standards with reduced operating costs. The water jet pump is built on a skid-mounted frame with lifting eyes and forklift guides provided for increased mobility. It also is available in a 55,000 psi (4,100 bar) model.
About Jed Edge:
Established in 1984, Jet Edge is a global designer and manufacturer of waterjet systems for precision cutting, surface preparation and coating removal. Jet Edge systems are used around the world in a broad range of industries, from the world s leading airlines to automotive, aerospace, industrial manufacturers, machine and job shops. Jet Edge waterjet systems are proudly made in the U.S.A.