New controllers from McDonnell & Miller
McDonnell & Miller has introduced two new controllers to its Series 750B line of conductance actuated level controls for commercial and industrial use. The new products are the first multiple-function controllers in the Series 750B family, which provides reliable control of burner circuits, pumps, motor starters and electric valves for low water protection and pump control applications.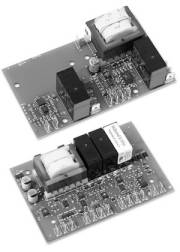 Multiple-function controllers Series 750B
The 750B-LP-120 is dual-function with low-water cutoff and pump control capabilities, and the 750B-DLP-120 has tri-function capabilities featuring two low-water cutoffs and pump control. Both the 750B-LP-120 and 750B-DLP-120 are available in panel mount configurations for easy installation within system control panels. In addition, both new products, as well as the entire Series 750B line, are CSD-1 compliant so that if a manual reset control is locked out in a low-water condition before a power loss, it will remain in lock-out condition upon restoration of power until water is restored to the probe and the manual reset switch is activated.
M&M Series 750B controllers provide low-water cutoff protection and level control for steam and hot water commercial/industrial boilers. Available in single-, dual- and tri-function configurations, the Series 750B controllers provide point actuated level control, low-water cutoff, pump on, pump off or high level alarm.
McDonnell & Miller, a unit of ITT Industries, is a leading manufacturer of boiler controls, flow switches, liquid level controls and steam specialty products for residential, commercial and industrial applications.