New Cobra NX Screw Vacuum Pump
Busch will be presenting the new Cobra NX screw vacuum pump. This vacuum pump compresses in a fully dry state, that is to say without operating fluid in the compression chamber. It is therefore ideal as a backing pump for pump units in heat treatment systems, and boasts significant advantages in comparison to oil-lubricated piston or rotary vane vacuum pumps.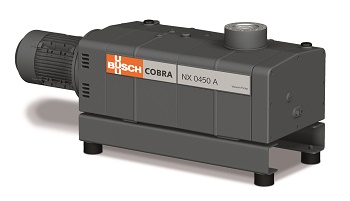 Cobra NX 0450 A screw vacuum pump (Image: Busch Vacuum Pumps and Systems)
A pioneer of dry vacuum technology, Busch has several different screw vacuum pumps in its product portfolio. The Cobra NX is the latest development and has been specially designed for heat treatment applications. With its state-of-the-art screw vacuum technology, it works extremely efficiently thanks to the low power consumption, requires only minimal maintenance in comparison to oil-lubricated vacuum pumps and thus minimizes the operating costs. The robust screw vacuum pump is also characterized by a high level of particle and condensate tolerance.
Unlike oil-lubricated piston or rotary vane vacuum pumps, it has a stable pumping speed curve and therefore guarantees a consistently high pumping speed across the entire vacuum range. Cobra NX screw vacuum pumps are available in two sizes with pumping speeds of 350 and 650 cubic metres per hour, operated at 50 Hz. Their compact and sophisticated design enables a vacuum booster to be easily mounted.
Busch has a dense service network in 42 countries around the world, maintaining vacuum pumps of all types and makes. Busch also offers a "VacuumAudit", whereby a Busch specialist analyses the existing vacuum supply directly at the customer site and identifies ways in which this could be made more efficient.