New Circulating Pumps for Heat Transfer Systems
KSB Aktiengesellschaft will present their updated Etanorm SYT pump series to the public for the first time. KSB`s latest generation of single-stage volute casing pumps has been specially developed for applications in modern heat transfer systems and hot water circulation.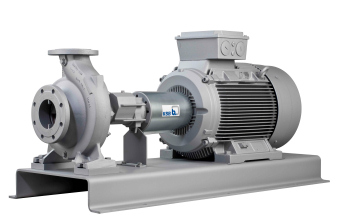 Etanorm SYT, KSB's new circulating pump for heat transfer systems (photo: KSB Aktiengesellschaft, Frankenthal )
Etanorm SYT pump sets handle hot water as well as mineral oil based thermal fluids and synthetic thermal oils at tempera­tures of up to 350 degrees Celsius. They are particularly suited to the rough conditions experienced in heat transfer systems. The new pumps' stable rib design and reinforced bearings make them resistant to external forces.
Especially the increasing use of highly efficient synthetic oils has been calling for new developments in pump technology. Etanorm SYT incorporates significant technical innovations, such as a new vent design through which gases can be reliably removed during operation. For very critical fluids a variant with double mechanical seal has been introduced. Customers may choose between carbon (standard) or SiC plain bearings.
KSB's Etanorm SYT pumps are hydraulically optimised and highly energy-efficient. The pumps are supplied with an impeller diameter individually matched to the duty point of the actual system. By selecting the best impeller diameter and pump size from the large range on offer, an ideal combination can be found for the majority of duty points. This allows economical pump operation with the pump always running at or near its best efficiency point. As a standard, all pump sets are equipped with high-efficiency IE2 motors. Speed control systems can be supplied as an option.