New Chemical Process Pump Power End with Lifetime Guarantee
Flowserve announces the release of its new Prima3 Power End that is adaptable to any ANSI chemical process pump.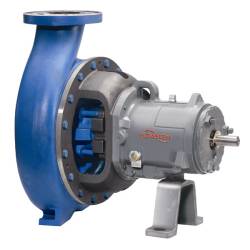 Prima3 Power End shown with optional stainless steel adapter and Goulds 3196 wet end. (source: Flowserve)
Fashioned after the field-proven and widely accepted Durco ANSI 3A power end, the heavy-duty Prima3 is adaptable to any ANSI chemical process pump, regardless of original manufacturer. Its performance is backed by the industry's first lifetime warranty.
The power end provides pump users with the ability to increase uptime and reduce operating and maintenance costs by standardizing on a single, reliable power end for all ANSI pumps. The benefits include:
Reduced spare power frame and parts inventories
Reduced purchasing and transaction costs
Reduced warehouse time and space
Reduced repair times and maintenance training
In addition to simplifying maintenance and repair, the Prima3 improves pump reliability, as evidenced by its unprecedented lifetime warranty. The power end boasts the largest shaft and bearing components available in standard ANSI pumps. Furthermore, it is assembled in a certified clean room and uses Inpro/Seal's VBXX non-contact Vapor Block Bearing Isolators to keep lubricants in and contaminants out.
Flowserve offers a full range of services to complement the Prima3 including remanufacturing programs, exchange programs and upgrade and re-rate services.
Currently the power end is pre-engineered to fit any Goulds 3196 pump. Other pump lines will be added as demand requires.