New Cast Steel Gate Valve with Butt Weld Ends
The start of July 2016 saw KSB, Germany, launch an extension to its Ecoline GT 40 range of cast steel gate valves. A version with butt weld ends is now available alongside the model with flanged ends.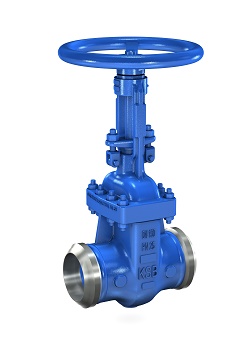 The valve gate range Ecoline GT 40 in butt weld end design has been developed for non-corrosive media such as water, steam, gas and oil. (KSB, Frankenthal, Germany)
The new butt weld end variant can be supplied in nominal diameters from DN 50 to DN 600 and in pressure classes up to PN 40. The gate valves come with connection branch extensions made of high-quality forged steel as standard.
The valve range has been specially developed for industrial applications and is suitable for use with non-corrosive media such as water, steam, gas or oil.
Its design pays special attention to ensuring absolutely reliable sealing to atmosphere. KSB's engineers have achieved this by employing a fully confined bonnet gasket in graphite together with graphite packing end rings. This creates a barrier preventing the sealing material from creeping.
A screwed back seat fitted as standard reduces the load on the stem seal when the flexible wedge is fully open and, in the event of a malfunction, ensures blow-out protection for the non-rotating stem with its burnished shank. Even after being re-worked, the extra long seat/disc interface hard-faced with Stellite ensures tight shut-off and a long service life.
The yoke head is suitable for accommodating flanges conforming to DIN-ISO 5210 and thus for mounting electric actuators.
The valves satisfy the safety requirements of Annex I of the European Pressure Equipment Directive 2014/68/EU (PED) for fluids in Groups 1 and 2. Since they do not have a potential internal source of ignition, they can also be used in potentially explosive atmospheres, Group II, category 2 (zones 1 + 21) and category 3 (zones 2 + 22) to ATEX 2014/34/EU. A TA-Luft-compliant model for applications to VDI 2440 up to max. 400 °C is also available.