New Bulletin for Glycol Solution / Water Make-up Unit
A new bulletin that describes the design and operating specifications of the Glycol Solution / Water Make-up Unit (GMU) from the Bell & Gossett® Packaged Systems Group is now available.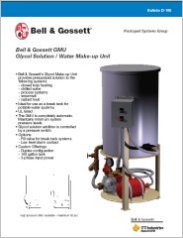 The UL-listed unit is designed for glycol solution applications such as closed loop heating, chilled water, process systems, snowmelt, and radiant heat.
The bulletin (D-190) includes product diagrams, specifications, and highlights of the GMU working components that include:
Bell & Gossett pumps
Triple Duty® Valve
McDonnell & Miller RB-122 Low Water Cutoff
Industrial Grade, 55-Gallon Polyethylene Reservoir
Low level protection with alarm light and remote contact
The Bell & Gossett GMU is suitable for use as a break tank for potable water systems with an optional fill valve and automatically maintains minimum system pressure levels.
Bell & Gossett
Bell & Gossett, a unit of ITT Industries, is a leading manufacturer of centrifugal pumps, circulators, hydronic specialties, heat exchangers, and packaged systems for variable and constant speed pumping, heat transfer and pressure boosting.