New Bitzer Customer Magazine with a Focus on Electronics
In the 2-2017 issue of its digital Compact customer magazine, Bitzer, the specialist in refrigeration compressors, provides information in German and English about interesting innovations at the company and in the refrigeration and air-conditioning industry. This issue focuses on the topic of electronics at Bitzer and features reports on the company's sites in the US and Asia, successfully implemented references and well-founded technical articles.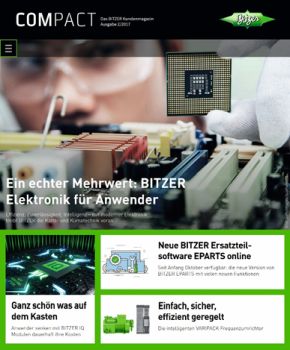 The current issue focuses on electronics (Image: Bitzer Group)
Patrick Koops, Head of Public Relations at Bitzer, confirms: 'Efficiency, reliability and intelligence are all keywords that we at Bitzer increasingly associate with electronics. Electronics provide our users with real added value and that's why we want to share our reasoning with them. Another highlight of this issue would have to be our interview with world-renowned scientist Professor Ernst Ulrich von Weizsäcker, which focuses on the responsible use of energy.'
It's not only its content that makes Compact a shining example of ongoing digitalization at Bitzer. In fact, as of last year the customer magazine has been available in digital form, allowing readers, for instance, to share content directly via social media or contact the editorial team with just a click of the mouse.
The next issue of Compact is scheduled for publication in March.