New Bearing Protection
Improper bearing chamber sealing costs industry millions, if not billions, of dollars each year in damaged bearings, equipment and lost production costs.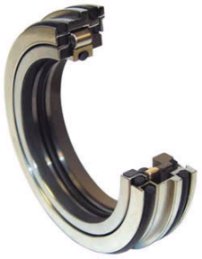 Patent pending Mag Tecta II from Aesseal
The limitations of Lip Seals and Labyrinth Seals are well understood. Industry has seen little technical advancement of these devices in the past few decades. Many such devices do not function properly in the simplest of applications (e.g., vertical shafts).
In 2002 AESSEAL plc, one of the worlds largest mechanical seal manufacturers, decided to solve bearing chamber sealing problems by applying 25 years of mechanical sealing experience to the problem.
The result is an innovative, patent pending, magnetically attracted, dual-face seal design which is now successfully installed in thousands of rotating equipment applications throughout the world.
Industries as diverse as Refineries, Wet Corn Milling and Pulp and Paper have all benefited from this new and exciting 21st century technology.
Not surprising, the patent-pending MagTecta, and its sister product the MagTecta-II, is a revolution for ALL types of pumps, including horizontal and vertical centrifugal, between bearings, split-case and positive displacement such as rotary lobe, gear and progressing cavity. Additionally, applications from rollers to pillow blocks, rotary valves to gearboxes and mixers to conveyors have all seen significant up-time improvements. Improvements of as much as 10 and 20 fold have been reported by MagTecta users.
The MagTecta is a dual cartridge mechanical face seal, which has no clips or setscrews. It is installed like a Lip Seal in the same location. It bears no resemblance to a labyrinth bush. The stationary seal faces are attracted by stationary magnets, therefore the magnetic field is stationary, improving magnet life.
The MagTecta-II works well in both static and dynamic rotating equipment applications, whether vertical or horizontal shafts. There are no rubbing elastomers to wear or replace. Rubbing elastomers damage and wear mating components. Furthermore, the design does not include a complex Labyrinth arrangement, which could seize parts with close radial and axial running clearances. Bearing chamber breathing and moisture ingress is now eliminated, using the hermetically sealed MagTecta-II design.