New Atex Outstation is Solution for CSO
Water authority engineers looking to meet industry regulations and monitor Combined Sewer Overflow (CSO) flows can now rely on ITT Flygt Monitoring & Control's new ATEX approved D7160ex Outstation.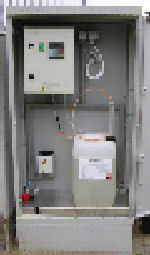 CSO (photo: ITT Flygt).
The D7160ex Series is ideal for CSO monitoring because it can be safely located in the chamber itself. ATEX approved by BASSEFA for operation in explosive atmospheres, Flygt provides a solution to engineers to reliably run sequences and provide vital information, including actual flow, total flow volume, total flow duration and number of overflows, via a GSM link to a Masterstation.
The D7160ex uses lithium batteries to power itself and associated instrumentation for over two years, depending on usage and temperature conditions. It is ideal for locations within confined, remote environments where mains power is not suitable but the functionality and communication of an outstation is still required, such as CSO's.
The product works in conjunction with Dynamic Logic's existing drivers or Modbus and in addition will carry the DNPv3 WITS standard when available. It is also compatible with any Flygt equipment.
Commenting, Guy Fitzpatrick, product marketing manager of ITT Flygt Monitoring & Control, said, "Flygt has used its extensive knowledge of monitoring and controlling in a wide range of applications in the utilities and industrial markets to develop the D7160ex.
"The added value for our customers is the product's ability to meet the reporting requirements of water authorities concerning CSO thresholds and provide a reliable solution to protecting the CSO's surrounding environment."