New ABS Wastewater Pump ROBUSTATM1 – For Low Level Pumping
The well-known ROBUSTATM pumps from ABS have been designed for house, garden or yard applications, as well as for emptying flooded cellars, for draining pits, sumps, and for pumping rain water.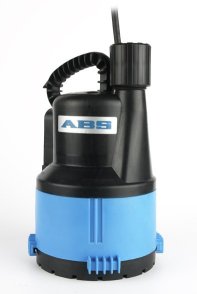 The new ROBUSTATM1 is especially designed for pumping
wastewater and drainage water in locations where the level is low and
almost all the water must be pumped away.
The ROBUSTATM1 incorporates many of the same features that
have been associated with ROBUSTATM pumps for many years. These
include an integrated checkvalve built into the discharge line to prevent
backflow when the pump is switched off. The pump and motor section
form a pressure-tight encapsulated unit, with the motor housing
constructed from corrosion resistant material.
Key benefits of the new ROBUSTATM 1 include:
Ability to pump down to 1 mm*
Ready to use
Lightweight and easily transportable
Wide range of application possibilities
Key discharge and technical data
Discharge Head: 1 2 3 4 5 m
Discharge Volume: 106 75 45 24 3 l/min
Properties:Flow: up to 106 l /min (28 USgpm)

Head: max 6 m (20 ft)

Technical Data:Discharge connection: G1¼"

Solids size: 1 mm

Motor Power P 1 : 0.28 kW

Rated voltage: 220 -240~

Rated current: 1.3 A

Cable: H05RN -F3G1.0

Cable length: 10 m

Weight: 3.0 kg
*The actual level of the residual water may vary depending on factors such as surface texture and composition, and the evenness of surface etc.