New ABS Submersible Sludge Pump
The new ABS submersible sludge pumps JS12-15 are small, lightweight and efficient. The pumps are designed for applications needing excellent solid handling capabilities.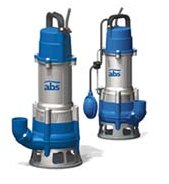 New ABS Submersible Sludge Pumps (photo: ABS).
The main advantages of the new JS12-15 are:
40 mm free solid passage using vortex impeller
Wear resistant hydraulic parts in modular cast iron
Lightweight aluminium design
Plug-in start with motor protection (single phase with built in capacitors)
Dry running capability
Float switch for automatic level control
The new ABS sludge pumps JS12-15 are available in 0,9 to 1,5 kW. The sludge pump series now includes six different models ranging from 0,9 kW to 9 kW. All ABS dewatering pumps are easy to service and maintain due to their modular design.