New 460 sqm Building: Heiform Is Expanding its Production Area
Due to increased demand for plastic injection moulding tools, German-based Heiform Werkzeug- und Formenbau was having to outsource production of some components up until the start of 2019, which led to an increase in logistics costs. In order to make these production processes more efficient and to be able to bring them back in-house, the company decided to extend the two existing company buildings by building a connecting annexe.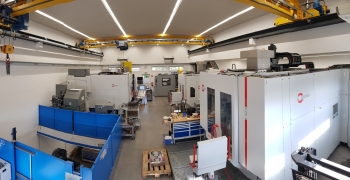 As part of the refit, the company s equipment has also been added to: The connecting building now houses eight large state-of-the-art machines. (Image: Heiform Werkzeug- und Formenbau GmbH)
The previous production area tripled in size, to a total of around 760m², thanks to the additional 460m². "Our premises were previously very narrow, which was already making component storage expensive, for example," said Carsten Kopsieker, Managing Director of Heiform. "Thanks to the new space, we have increased our in-house production capacity, and in doing so also enabled our staff to work more pleasantly and safely." As part of the refit, the company s equipment has also been added to: the connecting building now houses five state-of-the-art machines for producing injection moulding tools. In addition, two new wire cutting machines and a starting hole drill have been housed in the additional corner building.
Building work for the project began in February, 2018. A few unforeseen challenges during the building work led to the building project being delayed. Thanks to the very good weather and reliable construction partners, the schedule was largely met on time, so that in November, 2018, the first machines were put into service. The final external work was completed at the end of March, 2019. "The whole team worked brilliantly and was able to meet the planned deadlines through careful planning. Special thanks also go to all those involved in the Heinze Group for their support," said Kopsieker, summing up. "Thanks to the bigger production area, we can now respond faster and more efficiently to increased demand." An adjoining domestic building is currently being refurbished as an additional project, in order to expand the office space and staff meeting rooms. This work is planned to be completed by the end of 2019.
Heiform Werkzeug- und Formenbau GmbH was formed in 1972 as Kopsieker Werkzeugbau, by Friedel Kopsieker in Bad Salzuflen, and has been family-run ever since. The company specialises in the manufacture of plastic injection moulding tools - from design to sampling each process. The company nowadays supplies numerous well-known companies in the automotive, drive, pump, plant and medical technology sectors, and makes their product ideas reality using high-performance CAD/CAM systems in an accurate, fast and cost-efficient manner. The company currently employs 22 staff. Heiform has been part of the Heinze Gruppe GmbH since 2010.