New 4″ Hatz Pump
A new high pressure 4" self priming centrifugal pump powered by a Hatz air cooled diesel engine has been released by Australian Pump Industries.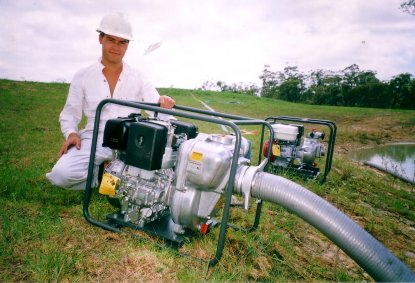 Stephen Bonney from Glenorie says The big 4 gusher is a multi purpose pump that can perform irrigation, fire fighting or transfer duties with ease (photo: Australian Pump Industries).
Called the Aussie QP402SX the pump is capable of heads of as high as 70 metres, that is around 100 psi.
The pump offers excellent self priming characteristics making it ideal for draughting water from creeks, dams or streams. Its high flow rate, delivering up to 820 litres per minute, 49,200 litres per hour, makes it ideal for fast fill tanker applications.
The big 4" pump is powered by a Hatz 10 hp electric start air cooled diesel engine and comes in a heavy duty roll frame. "We chose a Hatz diesel for this pump because of the excellent torque and power characteristics, light weight and national service back-up" said Aussie Pump Product Manager, John Whiteley.
"Hatz engines are widely used in continuous service applications for irrigation, mine dewatering and power generation" he said.
The new Aussie 4" high pressure pump offers excellent self priming characteristics. The unit will prime from 7.8 metres making it ideal for either agricultural or dewatering duties.
Like all Aussie Quik Prime pumps the QP402SX pump is covered by a 3 year wet end warranty with 2 year Hatz diesel engine guarantee.
Further information on the new QP402SX pump is available from:
Australian Pump Industries
7 Gladstone Road
Castle Hill NSW 2154
Telephone (02) 98 94 41 44
Fax (02) 98 94 42 40
or Aussie Pump Distributors throughout Australia.
Australian Pump Industries, popularly known as Aussie Pumps, began trading in 1993 with a clear mission to provide first class products and support in pump and cleaning products to Australian and International consumers.
Apart from more user friendly and effective products the company set out to provide users with a level of aftermarket sales and support that set new standards in the industry.
Australian Pump now operates from a 2.5 acre site in Sydney's 'Norwest' industrial area. The office and plant is modern with a well organised warehouse and factory facility and spacious offices with a large display showroom for wholesale and retail customers' convenience.