New 1500 Bar High-Pressure Hand Pump from SPX Flow
Through its Power Team brand, SPX Flow ffers a comprehensive, leading portfolio of high force tools and equipment. The latest addition to this range is a new High-Pressure Manual Hand Pump, which is designed for controlled and reliable operation in the most demanding applications in the oil & gas, petrochemical and the power generation industries.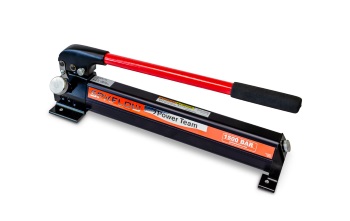 New SPX FLOW 1500 Bar High-Pressure Hand Pump Offers 
Exceptional Performance with Portability (Image: SPX Flow)
The Power Team P59L-1500 Series Hand Pump is expertly designed to reduce operator fatigue by using a patented linkage and handle socket design to lower the number of hand strokes through its two-speed design. As well as enabling operators to work faster, the pump also makes life easier as it has a patented spring-loaded handle lock to make carrying easier and a convenient fill port which allows the pump to be filled vertically or horizontally.
This highly flexible, easy to use hand pump is well suited for tensioning, pressure test and other applications, with an operating range up to 21,750 PSI (1500 BAR). The P59L-1500G model also comes with a skid plate for additional stability and a user-programmable digital pressure gauge, which can be set to a custom scale for the display of force or weight to match the tool being used. The standard model weighs just 10.4 lbs (4.7 kg), and all units are fitted with a large release valve knob to provide added control when slowly metering loads down.
Power Team products are renowned for their high quality and robust, reliable operation. This latest addition to the family has been designed with the needs of the user in mind and offers an excellent, portable solution for highly efficient, manual pumping.