Netzsch Presents Broad Range of Positive Displacement Pumps
Industrial chemistry defines all areas of life in the modern world, from the basic materials for pharmaceuticals to new materials for mechanical engineering. And the range of media that has to be processed in chemical plants for all those applications is just as broad. For the pump systems that are used, such diversity represents an enormous challenge, as the systems have to convey abrasive, sheer-sensitive and hazardous materials reliably in all cases.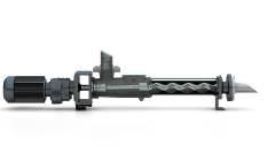 The Nemo progressing cavity pumps are based on a spiral rotor rotating inside a stationary stator. Closed conveying chambers are formed hereby in which the medium is gently transported. (Image: Netzsch)
Netzsch Pumpen & Systeme GmbH has a broad range of different pump types available to this end, from the progressing cavity pump via the rotary lobe pump and on to the multiple screw pump. In combination with the diverse materials and accessory components, the ideal configuration can be arranged for any application. There are now more than 150,000 Netzsch pumps in use at chemical companies around the world for paper, colour coating, detergent and plastics production and more.
Avoiding shear forces and pulsation when conveying media is a key requirement for almost all industrial chemistry applications. Many systems, such as centrifugal and piston pumps, generate dynamic forces or pressure reversal points when transporting material as a result of how they are designed. However, such forces can lead to significant changes in the transported media. Emulsions, for example, may separate and dilatant media can solidify. In the worst case, the material then becomes unusable. Besides the pure value of the material itself, all value added up to that point is then also lost. Rotating displacement pumps offer significant benefits in this regard.
Closed conveying chambers ensure smooth transport of media
Positive displacement pump technology, particularly in the form of the Nemo progressing cavity pumps from Netzsch, can be used to avoid such effects. This not only prevents back-flow but also ensures that the conveyed medium is transported at stable volume and pressure, so that no shear forces and almost no pulsation occur.
Reliable delivery also of highly viscous and poorly flowing media
Nemo pumps are used, for example, by a packaging manufacturer to process plastics. Highly viscous PVC compound at 25,000 to 30,000 mPas has to be conveyed from an agitator to a filling valve under controlled conditions in this application. The medium is also extremely sheer-sensitive and sets rapidly. A four-stage pump was therefore installed, with a dosing accuracy of 2 to 3 percent. To maintain the fluidity of material, the suction and stator housing were fitted with heating elements to maintain the medium at a stable temperature of 80 °C. The solution permanently prevents breakdowns from blockages. There are now 50 of these systems running at the company s sites around the world, conveying from 100 to 275 l/h at 12 to 15 bar.
Tornado rotary lobe pump for low-pulsation delivery regardless of viscosity
With the Tornado T2 types T.Proc and T.Sano Netzsch has developed two model series designed specifically for the requirements of process technology and hygiene guaranteeing maximum operational reliability.
Full Service in Place and in the shortest possible time
A unique characteristic of rotary lobe pumps from Netzsch is their ease of maintenance. The systems are designed so that they can be opened, cleaned and all wearing components can be replaced on site without the pump having to be disconnected from the piping.
ATEX-compliant and air-tight
The ATEX rating of rotary lobe pumps is also important for applications in the chemical industry. All T2 variants come with built-in ignition protection and liquid encapsulation. They are therefore certified as explosion-protected equipment of classes I M2 c and II 2GD IIC T4 and can be used at ambient temperatures up to 60 °C and media temperatures up to 100 °C in class 1 explosive atmospheres.
This was a relevant feature, for example, for a detergent manufacturer, who wanted to pump highly viscose and explosive surfactants from a fuel truck. In the centrifugal pump that was used in the past, the viscosity and the variable position of the suction line repeatedly caused performance to deteriorate and even fail completely. The pump was therefore replaced in October 2013 by a T.Proc. As the surfactants can break down elastomers over time, a full metal version made of stainless steel was installed. Only the seals are made of a fluorine-hardened elastomer, which is highly resistant to chemicals thanks to its specific recipe. The additional safety measures to prevent damage included a double acting mechanical seal for quench supply and monitoring for pressure and dry-running. In addition, ATEX-compliant hot water heating was also guided through the front port to improve the fluidity of the medium. The pump therefore conveys medium at a rate of 15 to 20 m³/h and 4 bar pressure.
Explosion protection was also important in another application, where fatty acids had to be conveyed from a class 1 explosive zone at a chemical production site. Fatty acids can also cause chemical burns if they come into contact with skin or just the respiratory tract, depending on concentration. The German Technical Instructions on Air Quality Control (TA Luft) therefore require that fatty acids are not allowed to come into contact with the atmosphere. Given the aggressive nature of the medium and the high temperature of conveyance at 70 °C, a full metal version of the pump was also installed in this case. To ensure the system was hermetically sealed, double-acting mechanical seals with a pressurised looking system were used, thereby reliably preventing any leakages of the hazardous material. As a result, the requirements of the TA Luft were met in full and the pump conveys media under stable conditions at a rate of 20 m³/h and a pressure of 2.5 bar.
Matching materials to application
In general, it is essential for all applications in the chemical industry not only to select the correct type of pump, but also match the components and, above all, the materials to be used to the conveyed medium. Netzsch supplies, beside others, high-strength steels to stainless steel, which can be electro polished if necessary to reduce roughness. Various elastomers are also available for rubber components, including types approved by international food safety authorities. Nitrile rubber is also supplied as a resistant material for challenging environments. At any rate, individual matching of the pump system to the specific application scenario is always beneficial. Operational reliability and service life can be significantly increased as a result.