Netherlands Unveils New Water Purification Techniques
01.07.2011
About 2.6 billion people or half of the developing world lack even a simple 'improved' latrine, and 1.1 billion people have no access to any type of improved drinking source of water.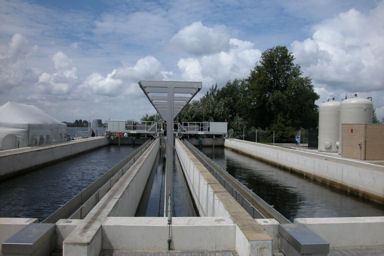 Wastewater Treatment Plant Harderwijk
"Rapid population growth and economic development put tremendous pressure on limited freshwater resources. The availability and safety of water resources is further threatened by climate change," says Ms Adeline Tan, Senior Project Manager of the Netherlands Foreign Investment Agency (NFIA).
Out of a population of 16.5 million, the Netherlands also boasts some 2,000 companies in the field of water, employing about 80,000 people. The immense expertise present in the country as well as its rich history in water management gives the Netherlands the edge and credibility in helping with efforts pertaining to improving access and quality of clean water across the world.
Global Water Expertise
To maintain its reputation as a European and global leader in water and its related technologies, the Netherlands regularly participates in conferences to gain valuable insight from industry players as well as offer water management solutions to lesser developed countries.
"The Dutch are firm believers in strong public and private partnerships – these partnerships make the exchange of knowledge and technologies more effective and efficient," Ms Tan emphasizes.
One such event was the recent internationa Leading Edge Conference on Water and Wastewater Technologies (LET2011), held in Amsterdam in June 2011. At the conference, acamedic and industry representatives presented the newest developments in the areas of drinking water and wastewater technology.
Leading Dutch university, Delft University of Technology (TU Delft) stole the show at LET2011 with its presentation of eight innovative technologies for water purification.
Innovative Purification Technologies
TU Delft has developed a method of capturing carbon dioxide (CO2) during wastewater treatment which provides a possible alternative for underground CO2 storage. In addition, the university is involved in projects carried out in Hong Kong that tests the viability of using seawater directly as an alternative source of water for flushing toilets. This technology will not only facilitate phosphate recovery but generate a more efficient and integrated system for facilities such as airports.
Private water company, Waternet in partnership with TU Delft has embarked on a project to test the effectiveness of sieving wastewater in order to separate cellulose from toilet paper. Toilet paper in most regions of the world is discharged together with wastewater to a wastewater treatment plant (WWTP). Removing toilet paper by the use of sieves is technically possible and a few full scale applications are known in combination with a methane bioreactor or as an alternative for pre-settlement tanks. Preliminary research performed by Waternet gives clear indication that no significant degradation in the sewer systems takes place. In addition to recovering raw materials, this innovation will optimise the entire wastewater-purification process.
SR Technologies in collaboration with TU Delft has developed and expanded research investigating the use of worms to minimise sewage sludge. A field trial on the treatment plant Wetterskip Fryslan in Wolverhampton shows how worms not only break the sludge, but also provide improved sludge fermentation. The combination of degradation and fermentation provides a robust and above all sustainable process, which is suitable for addition to different types of treatment plants.
In the field of water purification technology, BiAqua, a TU Delft spin-off company, has developed a bio-nanotechnology process that selectively removes phosphate from water, thereby preventing microbial growth. This will prevent the dosage of toxic chemicals. The technology uses bio-based material, as opposed to chemical and other materials and solutions currently in the market. Another such project, this time in collaboration with Oasen, is the biological Iron and Ammonium removal from drinking water.
KWR Watercycle Research Institute, Waternet, Triqua en HTI and TU Delft have developed an innovative project to produce high quality water from sewage by combining wastewater treatment processes to optimise the energy recovery process by producing renewable energy from the organic content contained in sewage. The Sewer Mining concept is aimed at producing high quality water from sewage by means of Forward Osmosis (FO) in combination with a re-concentration system. The innovative Sewer Mining Concept enables high quality water production while reducing the energy consumed by current installations. This system could culminate into an economical, environmental and technological breakthrough.
On the last day of the conference, an excursion to the first Aerobe Korrelslib reactor in Epe was organised for participants. The reactor, developed by TU Delft and built by DHV in collaboration with Dutch water boards is helmed as the water purification system of the future. This is because the purification system requires only 30 percent of the area taken up by the existing facility which leads to energy and financial savings of up to 20 and 25 percent, respectively.
"The TU Delft's research in partnership with private and public firms will have positive implications for the industry. We expect his to translate into better water purification and management solutions for the globe in the future," Ms Tan says.
NFIA will host a booth (Booth 4Q22-4P22) at the Holland Pavilion during the Singapore International Water Week 2011 (SIWW) at the Suntec Singapore International Convention and Exhibition Centre, from July 4-8, 2011.