Nero Pipeline Connections Celebrates 25th Birthday
The team at Nero Pipeline Connections, a provider of stainless steel fittings and accessories, are celebrating 25 years in business with a number of customer-focused changes throughout 2013.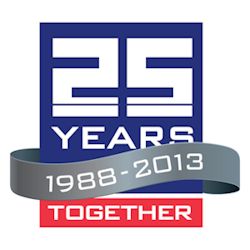 Nero Pipeline Connections
The Midlands based firm plans on marking a quarter of a century of trading with a 12 month programme of celebrations for staff and customers alike.
Ross Mooney, Managing Director comments:
"Reaching our 25 year milestone is a real cause for celebration and we want our customers to benefit from our achievements. We will be celebrating our birthday with the launch of a brand new website, a vastly improved, user-friendly product catalogue and a new level of marketing investment. We want to ensure our customers can get what they want, where they want so we'll also be exhibiting at a number of top industry exhibitions throughout the year."
Nero was founded in 1988 by Ross and friend Neil McDermott who combined decades of industry experience to form a company that quickly became known for its portfolio of high quality products, enthusiasm for customer service and boundless regional Midlands charm.
With strong links throughout many industries including the process, water and pharmaceutical sectors as well as the commercial and domestic heating and plumbing industries, the duo began recruiting staff after just nine months of trading to accommodate high levels of customer demand. Years of rapid growth followed and the team moved to larger premises in 1989, 1998 and again in 2006 to house increased stock levels from which they could offer a fast and reliable overnight delivery service.
Although the company initially offered a variety of pipeline materials, Ross and Neil paid particular interest in the stainless steel industry as it continued to advance in line with customer requirements. Eventually, they decided that stainless steel would be the area of expertise that would drive Nero forward.
Despite the continued success, growth inevitably slowed during the economic decline of the 90's and again during the recession of 2008 and 2009, particularly due to the fluctuation of exchange rates and customers struggling to secure work.
However, Ross explains that both downturns were followed by quick recovery:
"Customer service has always been at the core of our business and we were determined that economic downturn would not change this. We strived to support our struggling customers by offering as much flexibility as possible during their times of difficulty. We delivered goods at short notice when work was made available to them, sourced cost effective products that would meet their financial requirements and have always been at the end of the phone to offer technical advice and expertise to their teams. As the country began its recovery and our customers found their feet, they remained loyal to us as we had done to them and this helped our business to recover quickly, returning to pre-recession profit levels within twelve months."
The Nero team continues to multiply in line with its growing customer base and preparations are underway for a series of exhibitions throughout 2013.
Ross concludes: "Expansion plans are in place to increase the size of our current premises and the launch of our new e-commerce website will offer customers the very latest in online product browsing and purchasing opportunities. We would like to thank our customers for supporting us through 25 years in business and we look forward to serving them for the next quarter of a century and beyond!"