Neptune Unveils New Website
Neptune Chemical Pump Co. is pleased to announce that it has redesigned its website and created a new Corporate Brochure.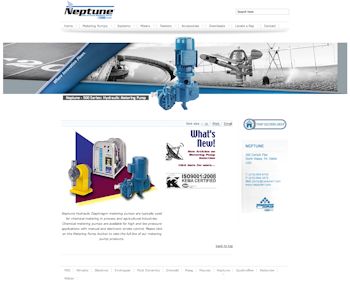 New Website (Image: Neptune)
The debut of these new marketing tools has been designed to coincide with the rollout of the Pump Solutions Group's (PSG) new "One Company-One Customer" campaign.
Found at www.neptune1.com, Neptune's redesigned website features a new look that demonstrates how Neptune, along with all of PSG's operating companies, has made a commitment to one common voice and image while still maintaining its individual brand integrity. Though the look of Neptune's new website is different, it contains the same comprehensive information about the company, its metering pump products and accessories, and the markets it serves. Visitors will also be able to access the Neptune website at PSG's new site, www.psgdover.com.
Along with the launch of its new website, Neptune has created a new Corporate Brochure that includes the most up-to-date information regarding its line of metering pumps, as well as valuable product information from Fluid Dynamics, a leading manufacturer of liquid and dry polymer blending systems and a division of Neptune. The brochure also includes illustrations and explanations of the industries Neptune and Fluid Dynamics serve, including Agriculture, Energy, Process, Mining and Water & Wastewater.