Neptune Systems Improve Performance of Irrigation Systems
Neptune Chemical Pump Co. announced that its Series 500 hydraulic diaphragm metering pumps improve the accuracy and reliability of drip and center-pivot irrigation systems by applying fertilizers and chemicals in the most precise, timely and cost-effective manner.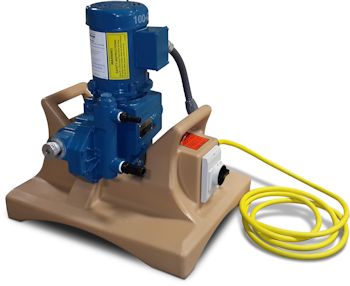 Series 500 (Image: Neptune Chemical Pump Co.)
Neptune Fertigation and Chemigation systems have been designed for the application of fertilizers, herbicides, fungicides, insecticides and other strong chemicals. The chemical tanks have a sloped bottom for complete drainage and ease of cleaning. All tanks larger than 55 gallons are fitted into double-wall containment and with double wall injection lines to protect the environment. A cover shields the pump, piping and electrical controls from the elements and excludes rain and debris, which allows 100% reclaim of uncontaminated chemical in the event of a spill or broken line.
In addition, Neptune Series 500 pumps are highly accurate, repeatable and provide flow rates that are easily adjustable, allowing growers the flexibility to adjust to changing growing conditions. With prices of fertilizers and chemicals on the rise, it is necessary to inject the exact amount of each at precisely the right time, which will ultimately lower operational costs while boosting yields. Neptune Series 500 pumps feature EZE-Clean valve cartridges that can be removed for cleaning without disturbing the piping to the pump and a Variable Oil By-pass stroke adjustment that allows for better valve performance than traditional variable-linkage designs. This allows the valve checks extra time to seat even in heavy liquids since they are idle during the by-pass portion of the suction and discharge strokes. Series 500 pumps are available with special pump heads to allow for pumping thicker liquids and suspensions. The pumps have capabilities to 100 gph (378.5 L/hr) simplex and 200 gph (757 L/hr) duplex at pressures up to 3,000 psi (210 KG/cm).