Neptune Offers Alternative Power Sources for Its Chemical Metering Pumps
Neptune Chemical Pump Co., Inc., announced that many of its most popular pump models are now designed for use with alternative power sources in irrigation and agricultural applications where electric power is not readily available.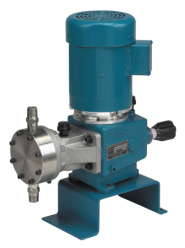 Neptune Chemical Pump Co.
Neptune's Series 500, Series 7000 and Series PZ metering pumps have been designed to serve the traditional irrigation and agriculture markets. However, sometimes these applications are required in remote areas where an electric power source is not available. To overcome this challenge, Neptune has designed these pumps to operate on alternative power sources, including belt-drive, solar power, hydraulic motor, 12-volt motor and gasoline motor.
Neptune Series 500 and Series 7000 pumps can be fitted with 12-volt motors that run off the 12-volt system of gasoline- or diesel-driven irrigation pumps. These pumps can also be powered by hydraulic motors that use fluid pressure from the hydraulic system. The Series 7000 can also be powered from gasoline- or diesel-driven irrigation pumps that use a belt and pulley, or by a small gasoline engine that can be trailer-mounted. The most common alternative power source for Series PZ pumps is solar power because the pump's low power draw allows for the need of a minimum solar collector array, regardless of latitude.