Neptun to Debut New Metering and Peristaltic Pumps
Neptune will be showcasing its new Series MP7100 mechanically actuated diaphragm metering pump.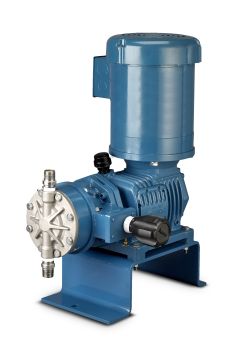 Neptune Chemical Pump
The Series MP7100 is engineered from the ground up to be more robust and durable than similar mechanical diaphragm pump designs. The MP7100 pump incorporates the ruggedness of a hydraulic diaphragm metering pump, eliminates the need for intermediate fluid or hydraulic oil to actuate the diaphragm and reduces the potential for gearbox oil to contaminate the process. The result is a pump design that provides reliable and accurate dosing of a wide range of mild to aggressive chemicals, including those used in municipal water and wastewater treatment. The gears of the Series MP7100 pump operate in an oil bath for longer life while its finned gearbox design dissipates heat more efficiently than other designs. This pump has a maximum capacity range up to 275 gph (1,041 L/h) pressures to 235 psi (16 bar), and a suction-lift exceeding 20 ft. (6m) on water-like chemicals.
Neptune will debut new models of its Abaque Series Peristaltic (Hose) Pumps for the North American market at ACE16. Featuring a new look of orange and black, these new Abaque models incorporate a stronger and more durable rotor design and an innovative hose holding system. Abaque pumps meet the challenging requirements of the water industry thanks to their seal-free design that eliminates leaks and product contamination, while offering suction-lift capabilities to 25.5 feet (9 meters). Abaque pumps are available in ductile iron and stainless steel construction, allowing higher discharge pressure up to 217 psi (15 bar). Abaque hoses are available in natural rubber (highly resilient with excellent abrasion resistance and strength), Nitrile Buna Rubber (highly wear resistant to oily products), Nitrile Buna Rubber with FDA Liner (used in hygienic applications), EPDM (high chemical resistance when handling concentrated acids, alcohols and ketones) and Hypalon (resistant to chemicals, temperature extremes and ultraviolet light). Abaque pumps are available in 9 sizes, with flow rates ranging from 0.59 to 80.1 gpm (0.13 to 18.2 m3/h).