Myers Introduces Custom Controls
Myers introduces a complete custom controls offering for the municipal, commercial and industrial sewage wastewater markets. The Myers custom controls provides options and versatility which compliment ...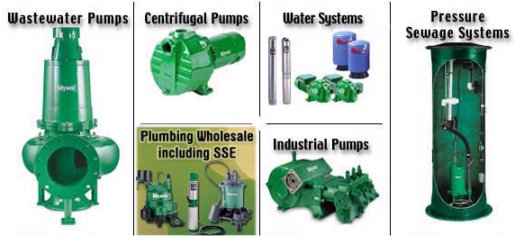 The Myers range of products (photo: Myers).
...the Myers complete product line of quality submersible wastewater pumps, ranging up to 125HP.
The Myers custom controls offering features: U.L. listed controls (U.L. 698A and U.L. 508), a twenty-four hour technical support hotline, quick delivery with quality construction and a wide range of features and options. For additional information, please visit the Myers' Website.
Myers is located in Ashland, Ohio, with additional distribution in Canada, Florida and California. Founded in 1870, Myers is a diversified manufacturer of quality water systems, centrifugal, reciprocating, and wastewater products that serve the residential, commercial, industrial, and municipal worldwide markets. Myers is a part of Pentair Water, a division of Pentair, Inc.