Multiphase Pumps for Oil-Water-Sand-Gas Mixtures from Netzsch
The global hunger for oil and gas continues unabated, which means that exploration companies are striving to achieve higher and higher yields and are also increasingly developing difficult sources, such as heavy oils with an extremely high solid content.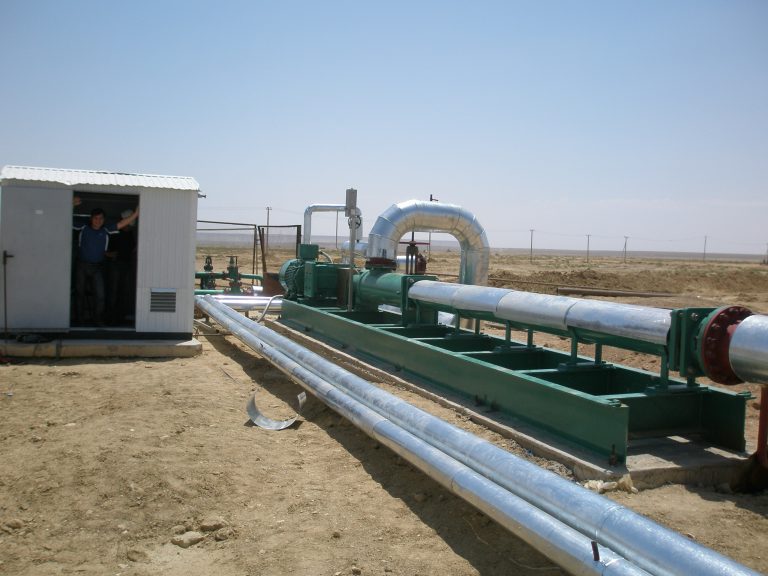 Progressing cavity pumps, which ensure stable conveying rates irrespective of consistency, are often used for the smooth transport of media, such as abrasive and corrosive mixtures of oil, gas, sand and water. (Image source: Erich NETZSCH GmbH & Co. Holding KG)
Methane from coal seams or highly viscous oil at more than 10,000 mPas are already of commercial interest today, but are just as complicated to extract as oil-sand mixtures from the Sudanese desert. Conveying systems in particular have to be adapted to the media and the environment if production is to be efficient under such conditions. Netzsch Pumps & Systems has consequently developed an entire range of specialised displacement pumps for the various fields of application.
Conventional pumping systems soon reach their limits when media consistencies fluctuate. This results in conveying failures, pressure loss and material damage. For this reason, costly separators sometimes have to be installed at every borehole in a field.
Netzsch has developed a multiphase pump precisely for this area of application. It can handle mixtures of oil, water and gas along with sand content, achieving flow rates of up to 600 m³/h. So that complex media can also be conveyed to collection points over long distances. The low shear forces and low pulsation mean hardly any emulsifying effects occur during pumping. There the media phases can be separated into considerably fewer central separators, which reduces the infrastructure costs for the whole field. This method is used in the Palogue Oil Field in South Sudan, among others. The gas/oil ratio (GOR) is over 80 percent with 50 SCFD per barrel mixed with sand. In order to still be able to pump efficiently, 20 multiphase pumps were installed, each of which conveys the yield from up to 24 boreholes to the nearest separator – some of them over 15 km away. As a protection against sunlight, which can heat the surfaces until they reach a temperature of 70°C, and against the occasional heavy rainfalls, the pumps were fitted with covers and installed on elevated frames. In addition, particularly robust joints were fitted to increase the running time.