Multi-language Videos by SPX Make Valve Maintenance Even Easier
SPX Flow has been translating its popular maintenance videos with the APV brand Delta DA3+ video now available in English, Spanish, German and Chinese.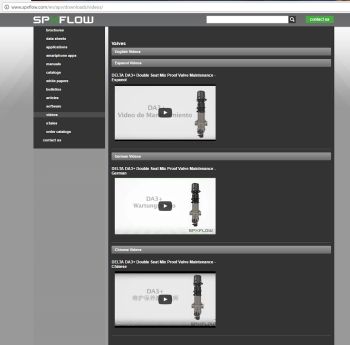 SPX Flow
Routine maintenance is essential to keep processes running smoothly. To help keep this operation as straight forward as possible, SPX FLOW has released a series of online maintenance videos that give clear, step-by-step instructions to ensure work can be carried out confidently and without errors. It is now working to translate these to support global customers and has released the Delta DA3+ standard maintenance video in Spanish, German and Chinese.
The Delta DA3+ mix-proof valve is a double seat mix proof valve with seat lifting. It is designed to offer the highest hygienic performance and is widely used in application areas including beverage, processed foods, brewery, dairy, chemicals and pharmaceuticals. All wetted parts of the device can be comprehensively cleaned to ensure complete hygienic operation. It also has two independent seat sealing arrangements to stop incompatible fluids from mixing and allow for safe processing. Fluid leakage is minimized but any that may occur is safely drained off through a large cavity to atmosphere when the valve is in the closed position.
Regular valve maintenance is an essential part of keeping valves operating well, protecting their life span, and maintaining process integrity. SPX FLOW will continue to work to deliver more maintenance videos with multiple language options to support its customers in ensuring their plants run smoothly with efficient maintenance and reduced risk of damage during maintenance cycles.
The Delta DA3+ Double Seat Mix-Proof Valve maintenance procedure videos can be found on YouTube and SPX FLOW website.