Mpact Downhole Motors Launches New Downhole Motor
Mpact Downhole Motors is continually working to design downhole motors that can operate under increasingly higher loads to maximize reliability under ever-changing drilling conditions. Recently, Mpact Downhole Motors launched a new 4-3/4 inch downhole motor that increases load capacity by 18%.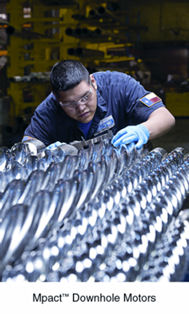 Mpact Downhole Motors
The higher capacity improves reliability and offers increased weight-on-bit, which enables higher penetration rates. The new downhole motor features a heavy-duty thrust bearing that can easily handle the increased load capacity. Mpact motors are recognized throughout the oil and gas drilling industry for their rugged transmissions and bearing assemblies that deliver outstanding performance, reliability and long service life for low total cost of ownership.
Mpact Downhole Motors has extensive in-house engineering capabilities that ensure ongoing development of leading edge motor technology that allows the company to achieve record-setting drilling performance and to meet a broad range of application requirements.