Mpact Downhole Motors Increase MTBF by Over 13%
Mpact motors have reached a 98% run success rate, which is a noteworthy standard of performance in the oil and gas drilling industry.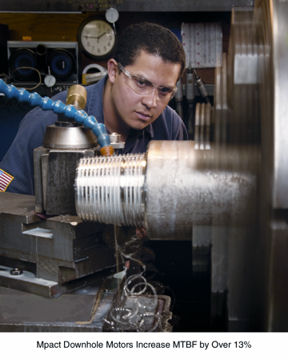 Mpact Downhole Motors Increase MTBF by Over 13% (Image: Mpact)
The mean time between failures (MTBF) using high quality Mpact motors also continues to consistently improve. At Mpact Downhole Motors, the MTBF in 2010 was 3,509 hours, a 13 percent improvement over previously recorded statistics. This is a significant accomplishment, particularly considering that Mpact downhole motors continue to be pushed to limits never before thought to be achievable. Demand for higher levels of performance and reliability is being effectively met with Mpact motors, benefiting customers throughout North America with low total cost of ownership.
Mpact Downhole Motors has extensive in-house engineering capabilities that ensure ongoing development of leading edge motor technology that allows the company to achieve record-setting drilling performance and to meet a broad range of application requirements.