Moyno to Exhibit at Worldwide Food Expo 2009
Moyno will exhibit its line of sanitary pump products for the food processing industry at the Worldwide Food Expo show October 28-31, 2009 in Chicago at booth #S3243. The display will feature a new Sanitary Wine Pump, along with the versatile Moyno Sanitary Pump and the Moyno Chopper Hopper.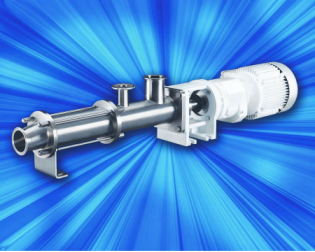 Moyno Sanitary Pump
The new Sanitary Wine Pump offers distinct performance advantages in must, lees and cluster pumping. The gentle pumping action prevents shearing to ensure product quality. The built-in auger feed eliminates the need for a separate feed mechanism, keeping equipment costs at a minimum. To ensure optimal portability, the Moyno Sanitary Wine Pump is mounted on casters and features a functional push bar. As with all Moyno sanitary pumps, minimal maintenance is required and clean up is easy and quick.
Moyno Sanitary Pumps feature standard mechanical seals, and all standard models meet 3A sanitary requirements with no modifications necessary. Clamp-style, DIN and ACME thread connections are available as well as close-coupled and open throat configurations. The Moyno Sanitary Pump is suitable for a wide range of applications including food processing, dairy, bakery products, meat and poultry, and beer and wine.
The company will also showcase the Moyno Chopper Hopper, which is a unique food products processor that combines solids reduction and transfer pumping into one efficient unit. It provides fast, simple and effective handling of waste by-products. Three stages of solids reduction are available for coarse, medium and fine particle size. Typical applications include food processing, waste handling for disposal, plant rendering product recovery and ethanol production.
Moyno, Inc., part of the Fluid Management Group of Robbins & Myers, Inc., is a leading American manufacturer of Moyno progressing cavity pumps, sludge pumps, metering pumps, sanitary pumps, multiphase fluid transfer systems and grinders. Its worldwide multi-million dollar stocking distribution network serves a wide range of industries, including water and wastewater treatment, oil and gas, pulp and paper, specialty chemicals, pharmaceuticals, food and beverage, biofuels, mining, and petrochemical.