Moyno Sanitary Pumps Offer Superior Performance Features
Moyno Sanitary Pumps offers superior performance features with uncompromising quality, reliability and application versatility. Moyno Sanitary Pumps are ideal for any application where bacteria and contamination must be avoided and/or frequent clean-up is required.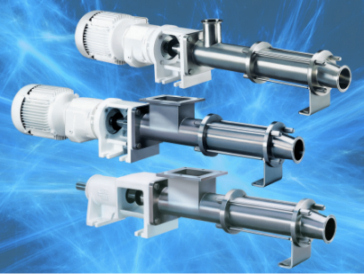 Moyno Sanitary Pumps
Exclusive features include standard mechanical seals, and all 150 standard models meet 3A sanitary requirements with no modifications necessary. In addition, a combination close-coupled/open throat design is offered in a standard model.
The Moyno sanitary pump is ideal for a wide variety of applications including food processing, dairy, pharmaceutical, cosmetics and chemicals.
Exclusive product features include:
Quick disassembly design for easy cleaning
No valves to clog or vapor lock
Ability to handle thin liquids like soups and juices
Efficiently moves viscous slurries like peanut putter, candies and jam
Ability to handle fuild temperatures to 400º F and solids up to one inch in diameter