Moyno, Inc. to Exhibit Products at WEFTEC 2005
Moyno, Inc. will exhibit the newest pump, the Moyno® 2000 CC, as well as Moyno® Annihilator™ grinders and the Moyno® 2000 HS System at the Water Environment Federation Annual Technical Exhibition & Conference (WEFTEC), to be held October 29 – November 2 in Washington, D.C.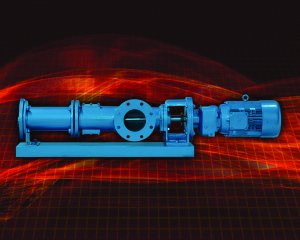 Moyno 2000 CC (photo: Moyno).
The new Moyno® 2000 CC pump is ideal for applications where close-coupled configurations are preferred, but the robustness of a gear joint drive is needed. The 2000 CC features a sealed gear-type universal joint drive train and optimized rotor/stator pumping element geometry. The pump is designed to efficiently transfer abrasive, high-solids content materials. Utilizing proprietary Moyno Ultra-Drive® gear-joint technology, the 2000 CC effectively handles radial and thrust loads for maximum performance. Moyno Ultra-Pro® rotor/stator pumping elements require less energy consumption and reduce the potential for plugging and costly down time. All internal components are interchangeable with other Moyno 2000 pumps for economical replacement parts inventory management.
The Moyno® Annihilator™ grinders are twin shaft solids reduction units designed for trouble-free performance in a variety of industrial and municipal applications. The Annihilator grinder offers optimized cutter combinations, one-piece flange housing and a quick change cutter cartridge. Annihilator™ grinders protect downstream equipment from being plugged or damaged from large solids, reducing expensive repairs.
The company will also showcase the Moyno® 2000 HS System, which features an integral hopper with a twin-screw auger feeder and specially designed progressing cavity pump that efficiently handles high solids, dewatered municipal sludge to over 50 percent solids. The Moyno 2000 HS system is a significant technology advancement for the wastewater treatment industry. It can pump filter cake further distances with higher volumetric efficiencies than any other progressing cavity pump. Its twin screw feeder supplies a constant, pressurized feed rate to the pump resulting in a 100 percent pump cavity fill rate. The enhanced design of the Ultra-Feed™ pump rotor further contributes to superior volumetric efficiency.
Moyno will be presenting in booth #9310.
Moyno, Inc., a unit of Robbins & Myers, is a leading manufacturer and marketer of Moyno progressing cavity pumps, multiphase fluid transfer systems, grinders and controls. It has an extensive worldwide stocking distribution network that serves a wide range of industries including water and wastewater treatment, pulp and paper, chemical, food, pharmaceutical, mining, petrochemical, and oil and gas recovery.