Moyno 2000 Progressing Cavity Pump Handles Wide Range of Processes
Moyno, Inc. offers the Moyno 2000 Progressing Cavity Pump. This versatile, high-performance pump is designed to handle a wide range of applications from shear-sensitive chemicals to difficult-to-process slurries and sludges.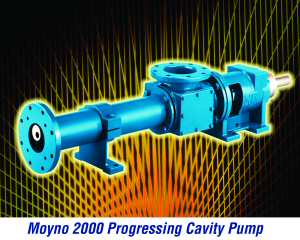 Monyo 2000 Progressing Cavity Pump
The Moyno 2000 Pump features the highly acclaimed crowned gear universal joint drive train configuration to provide exceptional torque and thrust control. Patented joint seals effectively protect the gear joints from pumpage contamination. The Moyno 2000 pump line offers capacities of 2 – 2500 gpm (.5 – 568 m3/hr) and pressure capabilities to 1,000 psi (69 bar).
Numerous models are available in a variety of construction materials with many different options, allowing customization to specific needs. These options include the following:
• Flush Gland which allows packing leakage to be flushed away from the pump, preventing potential damage to seals and packing
• Fiber Deflector to prevent ragging around pump connecting rod and rotor head
• Shaft Sleeve which protects drive shaft from wear in highly abrasive applications
Moyno, Inc. is a leading manufacturer and marketer of Moyno progressing cavity pumps, multiphase fluid transfer systems, grinders and controls. It has an extensive worldwide stocking distribution network that serves a wide range of industries including water and wastewater treatment, pulp and paper, chemical, food, pharmaceutical, mining, petrochemical, and oil and gas recovery. Moyno, Inc. is a unit of Robbins & Myers, Inc.