Mouvex SLP Series Sliding Vane Pumps
Mouvex announces the launch of its new SLP Series Seal-less Sliding Vane Pumps. The SLP Series have been designed with no magnets, no mechanical seals and no packing, making them one of the most economical, environmentally friendly and energy-efficient pumps for applications that demand leak-free operation.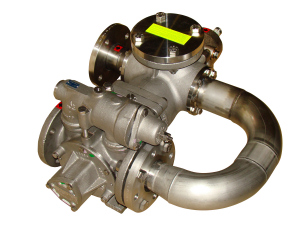 Mouvex SLP (Image: Mouvex)
The initial model available in the new SLP Series is the SLP25i. The SLP25i has a maximum flow rate of 110 gpm (25 m3/h), differential pressures to 12 bar (174 psi), can handle viscosities up to 60,000 cst/278,000 ssu and can operate in temperatures up to 212°F (100°C).
Leaking pumps generate additional costs to operators due to production stops, product losses, maintenance and cleanup costs. When the leaks involve a substance that is toxic, corrosive, hot, polluting, flammable or explosive, the costs can rise exponentially. With this in mind, Mouvex has designed its SLP Series pumps with a revolutionary shaft that is sealed by a unique double stainless-steel bellows, which eliminates the need for magnets, mechanical seals and packing. The bellows covers an eccentric shaft that drives the bellows in a circular motion during pump operation. This motion rotates the pump shaft and rotor via an integrated crank system. This makes the pump 100% seal-less and leak-free, and the ultimate solution against leaks, product loss and health risks.
The design of the SLP Series also leads to energy savings when compared with equivalent mag-drive pumps. In fact, the use of SLP pumps can result in a 30% reduction in energy consumption. The pumps are easy to maintain with no special tools required for routine maintenance. The vanes are also easily replaced with the pump in place. The SLP pumps are ATEX-certified and can dry-run for up to 10 minutes. All body parts are made of 316 stainless steel, with FEP-coated FKM O-rings and TVP (PEEK) vanes.