Mouvex SLC Series Pumps Ideal For Chemical Transfer Applications Found in Pulp & Paper Industry
Mouvex is pleased to announce that its SLC Series Eccentric Disc Pumps feature a design that is ideal for demanding liquid-transfer applications found in the pulp-and-paper industry, including the handling of numerous chemical-based compounds.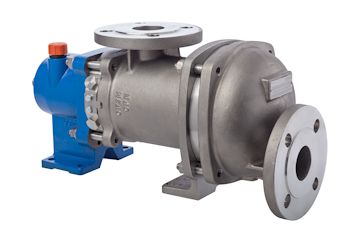 SLC Series Eccentric Disc Pumps (Image: Mouvex)
The design of Mouvex's SLC Series pumps can meet the challenges found in pulp-and-paper manufacture because they have been designed to deliver superior volumetric efficiencies while handling thin, abrasive, aggressive and higher viscosity fluids. Other design benefits of the SLC Series include seal-less construction; low shear and agitation of the pumped product; the capability of handling solids and abrasives; self-priming; line stripping; and the ability to run dry. SLC Series pumps also feature CIP cleaning, SIP sterilization, and have been engineered to increase productivity gains and energy savings.
Specifically, Mouvex's new SLC4 and SLC8 models are ideal for pulp-and-paper applications because they feature major technological advancements that includes the incorporation of a double-wall bellows into the design, along with monitoring that is done by pressure switch. By mounting the pressure switch on the bellows flange, the bellows becomes an independent sub-assembly within the pump, making for safer and easier operation. Other improvements in the SLC4 and SLC8 pumps includes the ability to handle differential pressures up to 10 bar (145 psi) in the SLC4 and 6 bar (87 psi) in the SLC8, and high-quality sand castings that are integrated into the manifold flange and bracket, which are compatible with ISOPN16 and ANSI150 flanges.