Mouvex SLC Series Pumps for In-Line Formulation
Mouvex has announced that its SLC Series Eccentric Disc Pumps - available in SLC1, SLC2 and SLC3 models - feature the operational efficiencies that make them ideal for implementation in in-line continuous-formulation processes.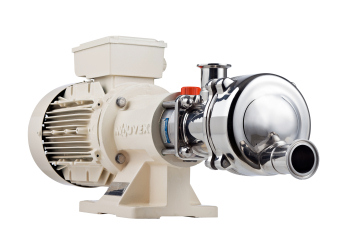 Mouvex
By allowing product ingredients to be fed, combined and mixed proportionally through a common manifold, in-line formulation can be more efficient than batch-formulation processes that require precise amounts of ingredients to be sent to a blending tank where the desired blended product is produced.
Mouvex SLC pumps are perfect for in-line formulation because they have been designed to accommodate wide changes in flow rates and viscosity, which can be common in these types of applications. This results in high-volumetric efficiency combined with a gentle fluid-handling nature.
SLC Series pumps are seal-less, meaning that they require no magnets, no mechanical seals and no packing. This seal-less design allows the SLC pumps to self-compensate for mechanical wear, which gives them the ability to maintain consistent flow rates over time, resulting in productivity gains and energy savings, along with the ability to handle thin, aggressive and abrasive fluids. In addition, the pump shaft is sealed by a double stainless-steel bellows.
Other design features of SLC Series pumps are self-priming and line-stripping capabilities; dry-run operation for up to 10 minutes; low shear rate; high vacuum and compression effect; a reduced number of components; reduced maintenance; and clean-in-place/sanitize-in-place capabilities. All three SLC models have speeds up to 1,000 rpms with flow rates from 4.4 gpm (1 m³/h)to 13.2 gpm (3 m³/h), and differential pressures from 87 psi (6 bar) to 232 psi (16 bar).