Mouvex Eccentric Disc Pumps Provide 80-90% Product Recovery Rates
Mouvex is pleased to announce that it offers a complete portfolio of Eccentric Disc Pumps for use in product-recovery operations in food-and-beverage manufacture and handling.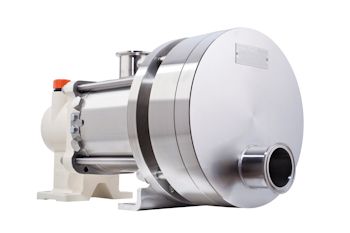 Mouvex SlS Series (Image: Mouvex)
Product loss is often treated as nothing more than an acceptable "cost of doing business" in food-and-beverage manufacture. In reality, though, simply flushing away costly raw materials or disposing of saleable finished products that may remain in transfer lines at the end of production runs can annually take thousands of dollars off the manufacturer's bottom line. Additionally, since food-and-beverage manufacturing processes must be hygienic, all pumps used in production must be cleaned and sanitized after every use or product changeover; this can also lead to large amounts of lost product.
Realizing the amount of money that food-and-beverage manufacturers are losing everyday, Mouvex offers its SLS Series, C Series, S Series and Micro C Series Eccentric Disc Pump models for use in food-and-beverage manufacture. Mouvex's unique eccentric disc principle of operation allows the pumps to operate efficiently with virtually no slip, even when pumping air. This makes it possible for the pump to produce a partial vacuum effect on the suction side and a compressor effect on the discharge side, in the process creating a "plug" effect that pushes the remaining product out of the transfer line as a whole.
This superior suction and compression effect enables Mouvex Eccentric Disc Pumps to recover product from transfer lines at typical rates of 80% to 90%, potentially resulting in thousands of dollars of cost savings per year. Other operational benefits inherent in all Mouvex eccentric disc models include dry-run and self-priming capabilities, seal-less design that eliminates leakage, shear-sensitive operation and the ability for clean-in-place (CIP)/sanitize-in-place (SIP). Mouvex eccentric disc pumps have earned hygienic certifications from a number of regulating agencies, including EHEDG, 3A, FDA and the new European Commission (EC) Regulation No. 1935/2004, which applies to all food-contact materials during production.