Mostra Convegno Expocomfort Asia to Debut in Singapore in September 2015
According to official figures published by Frost & Sullivan in June 2014, the construction industry in Asia Pacific generated 494.49 billion dollars in revenue in 2013, and forecast predicts a massive increase to 750,00 billion dollars in 2018. There is huge potential in this region for supply and demand of energy efficient technologies in sectors such as Air-Conditioning and Mechanical Ventilation (ACMV), one of the major energy consumers in buildings.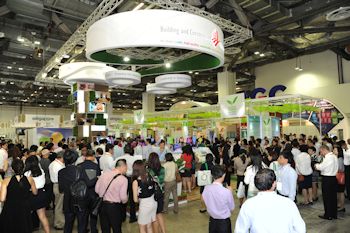 Mostra Convegno Expocomfort Asia
Capitalising on the potential of the ACMV industry in Asia, Reed Exhibitions has brought the geoclone of Mostra Convegno Expocomfort (MCE) – the world's largest HVAC-R event, into Singapore this year. Established in 1960 as Italy's first trade exhibition, MCE Europe has been a leader in the sector for more than 50 years, and the 2014 edition saw 156,000 trade visitors from many strategic markets. As the conduit to European suppliers of the latest energy efficiency solutions, MCE Asia will congregate the key players in these 4 macro sectors - 'Cooling', 'Water', 'Renewable Energy' and 'Heating', to serve Southeast Asia's burgeoning building and construction industry.
Themed Energy Efficiency & Global Comfort Technology, the inaugural MCE Asia will address the dual concept of energy saving & efficiency via innovative technologies and integrated systems with enriched living comfort through optimised indoor environment quality. MCE Asia will be co-located with the 8th edition of the premier green building tradeshow, Build Eco Xpo (BEX) Asia.
"Since its inception in 2009, BEX Asia has been leading the industry to drive the green built environment movement by providing a platform for regional interaction. We have facilitated the exchange of technologies and ideas, and embolden companies to take on a more integrated approach on the adoption of green technologies and methods. With the increasing demand for innovative ACMV, plumbing, and renewable energy solutions in Asia, we see great synergy to import MCE Asia to Singapore. The two co-located events will provide convenient, comprehensive and global sourcing for the building and industrial sectors." says Ms Louise Chua, Project Director of Reed Exhibitions.
Strong Industry Interest
The Building and Construction Authority (BCA) of Singapore is the strategic partner for MCE Asia.
Federation of the Italian Associations of Mechanical and Engineering Industries (A.N.I.M.A.), the industrial organization, which represents all major companies of the mechanical and engineering industry in Italy, as well as ASHRAE (Singapore chapter) have also confirmed their participation as MCE Asia's supporting partners.
These key brands will be exhibiting at MCE Asia - Altech Equipment Systems, Bitzer Refrigeration, Belimo, Caleffi, Cimberio, Coes, Dainkin, Deos Control Systems, Ebm-Papst, Galletti, Itap, KSB, Panasonic, Rubinetterie Bresciane Bonomi, Saudi Ceramic Company, Reflex, Reliable Controls, Smartdt Chillers, and many more.
"MCE Asia is the first exhibition in the region dedicated to energy-efficient residential and industrial installations from complementary sectors like cooling, water and renewable energy. We believe MCE Asia with its diverse yet synergistic product sectors, is a timely import that fills the growing gap between the supply and demand of energy-efficient solutions in Asia. We are very excited to leverage on the rich market opportunities that MCE Asia presents." says Ms Iris Pioch, Head of Marketing, Southeast Asia, ebm-papst SEA Pte Ltd.
Global Green Building Community Gathers in Singapore
Collectively, BEX Asia 2015, MCE Asia 2015 and the International Green Building Conference (IGBC) 2015 will be the key platforms during the Singapore Green Building Week in September for the exchange of global expertise, knowledge and solutions for the future of Southeast Asia's Sustainable Built Environment.