Mostra Convegno Expocomfort
The leading international biennial exhibition for domestic and industrial systems will take place from 28 February to 4 March 2006 at the new Fiera Milano exhibition centre Rho, in Milano, Italy.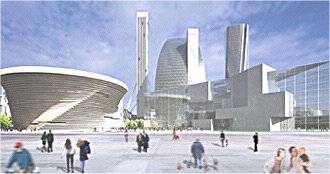 The exhibition will focus on the following sectors: heating, renewable energies, air conditioning, refrigeration, plumbing technology, water treatment, services and components.
New market trends are to be found in the four main areas of the exhibition: Energy, Heating, Cooling and Water. The ground-breaking exhibiting strategy combines creativity, production and new materials, and provides space particularly for research and technological innovation. Mostra Convegno Expocomfort has proved itself to be an excellent showcase, providing a complete overview of the sector along the lines of "Comfort & Living Technology".
The last edition, the 34th Mostra Convegno Expocomfort, reached a record high, especially from the point of view of exposure on the international scene. This was due to high customer loyalty on the part of both exhibitors and visitors, who consider this exhibition one of the top commercial events and a major opportunity for training and professional development.