Mostra Convegno Expocomfort 2012: A Huge Success
A growth in terms of foreign trade and professional visitors confirmed the consolidated International outlook of the benchmark event. A significant number of 2012's exhibitors have already rebooked for the next show, scheduled for 18th – 21st March 2014, always at Fiera Milano.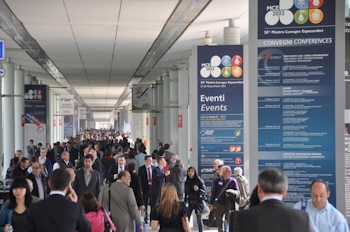 The Mostra Convegno Expocomfort 2012 has been a great success (Image: Reed Exhibitions Italia)
Mostra Convegno Expocomfort 2012 has confirmed its world leadership in diverse industry sectors including residential and industrial installations, air-conditioning and renewable energy. The 2012 edition staged at Fiera Milano from 27th through 30th March, has registered the participation of 155,301 trade and professional visitors, with a 5.8% increase in foreign visitor numbers, with a gross attendance of 35,342 people, who made their way to the show from 136 countries. In particular, there has been a rise in the number of trade visitors not only from many strategic markets, such as, Poland, Russia, Romania, Turkey, Brazil, Morocco and Egypt, but also from traditional countries including Germany, France, UK. In line with the previous edition the presence of professionals from all the other countries.
"The outstanding results achieved at MCE 2012, declared Massimiliano Pierini – Business Unit Director Reed Exhibitions Italia, have been even more widely appreciated considering the duration of the exhibition, namely four days instead of five. Exhibitors and visitors have given a resounding thumbs up to our decision to schedule the show at weekdays, on Tuesday through Friday." "The strength of MCE 2012 is in its proven ability to feature thousands of high quality products offered by 2,122 exhibitors, including 881 foreign exhibiting companies from 58 countries, offering a 360 degree view of ground-breaking systems and solutions available on the market today in terms of energy efficiency and saving. The success of the 38th MCE also depends on the investments made by exhibiting companies showing a mixture of technologies and best-in-class products ranging from air-conditioning to refrigeration, heating, implements and tools, sanitary technology, taps, fittings and the bathroom environment, solar thermal and cogeneration, biomasses and photovoltaic."
As usual the layout has smoothly channelled visitors who wished to meet exhibitors or attend conferences and events, while guaranteeing maximum visibility as ever. The rich conference programme dedicated to "Zero Energy 2020: Towards Building Technology", was a resounding triumph recording over 2,642 participants, who attended the 3 institutional conferences, and the 20 events organized by the main partners and associations of MCE. Once again the jewel in the crown of MCE, and a unique opportunity for professionals to debate and discuss. The most successful issue of the common thread running through the busy calendar of conferences was FCE, Forum sulla Certificazione Energetica degli Edifici ("FCE – Italian Forum on Energy Building Certification"), – organized in collaboration with CTI - Comitato Termotecnico Italiano (Italian Thermo-technical Committee); a valuable occasion to get an update on the energy performance of buildings directive in force in our country.
The second edition of Percorso Efficienza & Innovazione and Verso La Classe A 2012, the two initiatives taking place in collaboration with Next Energy Scientific Committee chaired by a representative of the Polytechnic of Milan BEST Department and aimed to show off the most innovative solutions devoted to residential and industrial installations to improve high efficiency in building, were also very successful with attendees. In particular, a signboard system guided visitors to find 117 products and solutions offered by 77 companies and selected for MCE 2012. Verso La Classe A, the event area set up in the Foyer of Centro Congressi Stella Polare, showcasing a shortlist of 34 products of excellence selected for Percorso Efficienza & Innovazione also attracted a large audience of professionals. An event featuring the most innovative installation technologies able to solve the energy problems for a new concept of living at zero emissions. The workshop room for ad hoc presentations on selected products organized by exhibiting companies and set up beside the Verso La Classe A, registered an all-time best with participant numbers too.
An important role in the success of MCE 2012 was played by www.mcexpocomfort.it. Over the years, the official website of MCE has become a privileged tool for the online community, registering – during the period April 2010 to April 2012 – 241,974 net surfers, 161,923 of whom from over 152 foreign countries and 266,615 total net surfers for a total of 1,818,376 web-pages viewed. MCE website provides a very thorough overview of online services offered to exhibitors, who can easily download not only the exhibitor registration pack but also market research and analysis. On the other hand, visitors will find all the information they need to plan their exhibition visit and the online
pre-registration to avoid long queues on onsite registration counters. Last but not least, the special section "Companies News" is a virtual showcase providing a full panorama of news about best-in-class products, initiatives and relevant case histories updated by exhibitors every month.
The free download of the new mobile "App" for all platforms, from Apple to Android, was also a huge success. 3,469 app downloads for IOS and 921 downloads for Android confirming that new media is fast becoming the preferred method of getting interactive information right on the search results. Social networks like Facebook and Twitter have also been the real protagonists of MCE offering a unique chance to be constantly updated with photos, videos and discussions during the four-day exhibition.