More Success Through Quality
The international pump portal impeller.net extends its advertisement program to expand its range of target group oriented marketing options in the pump sector. A text format advertisement with central positioning in the editorial setting guarantees an extremely high perception rate. Coupled with flexible placement period this quality ad space will convince even demanding customers.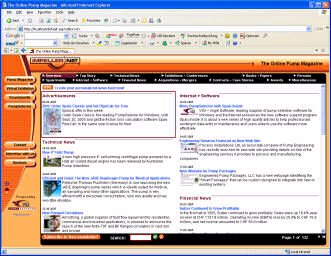 The pump portal with the Pump Magazine, the global PumpSelector and the Virtual Exhibition with up to 100.000 visits a month, is a worldwide leading information source for the pump community. The enormous readership shows that more and more people value and use these custom-tailored contents. All the late-breaking news from the world of pumps is published here in different categories. Impeller.net readers deliberately subscribe to the weekly newsletter and read it very attentively as the high feed back rate shows.
Requests for advertisement options come increasingly from companies that after publishing their news could increase not only their direct contacts but also the number of visits to their own websites. That is why the options for integrating Internet concepts into companies' marketing strategies are now expanded.
The new category Advertisement will take its place in the Pump Magazine – the up-to-date editorial news section that are tailored to the target readers' interests. It will, however, have a special status: Top-notch Advertisement is the motto. That means this category is always located on top of the front page and does not – like the rest of the news – move down or even to the second page with every new entry.
Because of the specialized technical environment you not only reach the readers directly but also through top listings in search engines as well as news channels
The runtime limitof an advertisement can be arranged individually and set up with flexibility because the minimum term is only one week. Thereby an advertising campaign can be laid out so that the number of weeks or months booked can be spread throughout the year. This makes an effective marketing campaign also affordable for small and medium-sized companies.
Further information, prices and bookings are available on the Advertise with us page. If you prefer a personal consultation, please send an e-mail to editors@impeller.net or call ++ 49 (0)351 899 510.